Everyone has a place in their home where they like to watch TV, go on the computer, watch movies and play video games. The greatest way to arrange your house is so you can have all those activities in one room, "The Gamer Room." Whether it's your living room, bedroom, den or playroom, the gamer room is the sanctuary of your house. Your personal kingdom! Here are some cool things that would make anyone jealous (me especially) of your beloved gaming haven!
The Couch
The couch is like your throne. You don't want just ANY chair or seat! You want it to be BIG and BADASS!
The Pixel Couch by Cristian Zuzunaga
The Love Sac – LoveSac.com
Wall Decorations
Don't just let your walls sit there with nothing on them! Liven it up a little with some cool decorations or posters of your favorite things!
Death Star Wall Cling from ThinkGeek.com ($99.99)
Nintendo Wall Graphics – ThinkGeek.com ($49.99 – $69.99)
Star Trek Wall Decals – ThinkGeek ($12.99-$249.99)
Shelves
Make your shelves as fun as the stuff thats on them!
Tetrad Flat – Brave Space Design
Polar Bear Bookshelf – iBride
Donkey Kong Shelves -Neatorama
T.Shelf – J1studio.com
Tables
PS3 Coffee Table -Walyou.com
Regular Nintendo Controller Coffee Table (That actually works as a controller too!) – Geekologie
Han Solo Carbonite Desk/Table – Tom Spina Designs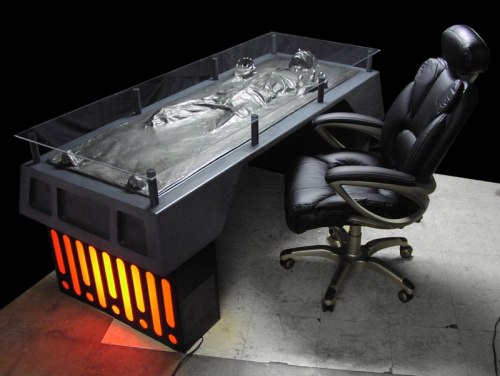 Pac-Man Coffee Table – Geeky-Gadgets
Misc
Halo MasterChief Pillow – Sindeegee ($25)
Controller Pillow – Technabob
Monty Python Killer Rabbit Slippers – ThinkGeek ($34.99)
Disappearing Dino Mug – Neatoshop
Laptop Pillow – LikeCool.com
Star Wars Plush – ThinkGeek.com ($9.99)
Playhouse For Your Kitty – ThinkGeek.com
All in all, your gamer room is supposed to reflect your personality. You don't need all the fancy gear & gadgets as long as it suits you and your basic needs.  No matter how much money you have, what kind of couch you sit on and what type of wall decorations you hang, just remember that you'll always be better off than this poor guy!
Tags: ADORABLEZ, COUCH, FURNITURE, GAMER ROOM, Gaming, GIMMIE!, LIVE LIKE A KING, LOOOVE, PLAYSTATION, PS3, star wars, xbox 360