April 30, 2010
Free Comic Book Day is coming up this Saturday, and I am celebrating by sharing some of my favorite comics this week!
Take a look at yesterday's post on Spell Checkers,
Wednesday's post on Night Zero,
Or Tuesday's post on Demo.
Today I'll be taking a look at some potential comics I can't wait to check out. I'll probably be buying a couple of these tomorrow!
The Guild


Everyone's favorite web series now has an origin story! I'm excited to see these characters in a new medium for their 3-part miniseries. (Issues 1 and 2 are currently out).
Locke and Key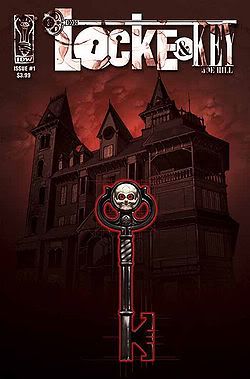 Kenneth and Daniel recommended this over on our Facebook page, and I trust my Zaxyers. I'll be looking for the 1st issue to pick up tomorrow! Locke and Key is apparently a horror style comic, and that intrigues me.
Simpsons Futurama Crossover Crisis


The title and image should be enough. I saw this in a bookstore but didn't have the chance to pick it up. We all know I love Futurama, and this looks like so much fun.
Let's just say Lisa serenades Fry with her sax, but it can't compare to Fry's performance on the Holophonor…
Did these comics pique your interest? Then join me at Free Comic Book Day! Take a look for the nearest store to you.
If you're in the Seattle area, join me at Comics Dungeon in Wallingford at noon. We'll pick out our comics, browse the store, and get some photos taken with StormTroopers! After that, join me across the street for some Dick's burgers and milkshakes. Yum! Comics and burgers, I can't wait! You can get more information on the specials Comics Dungeon will have going on this weekend on their Facebook event page.
Will I see you there?